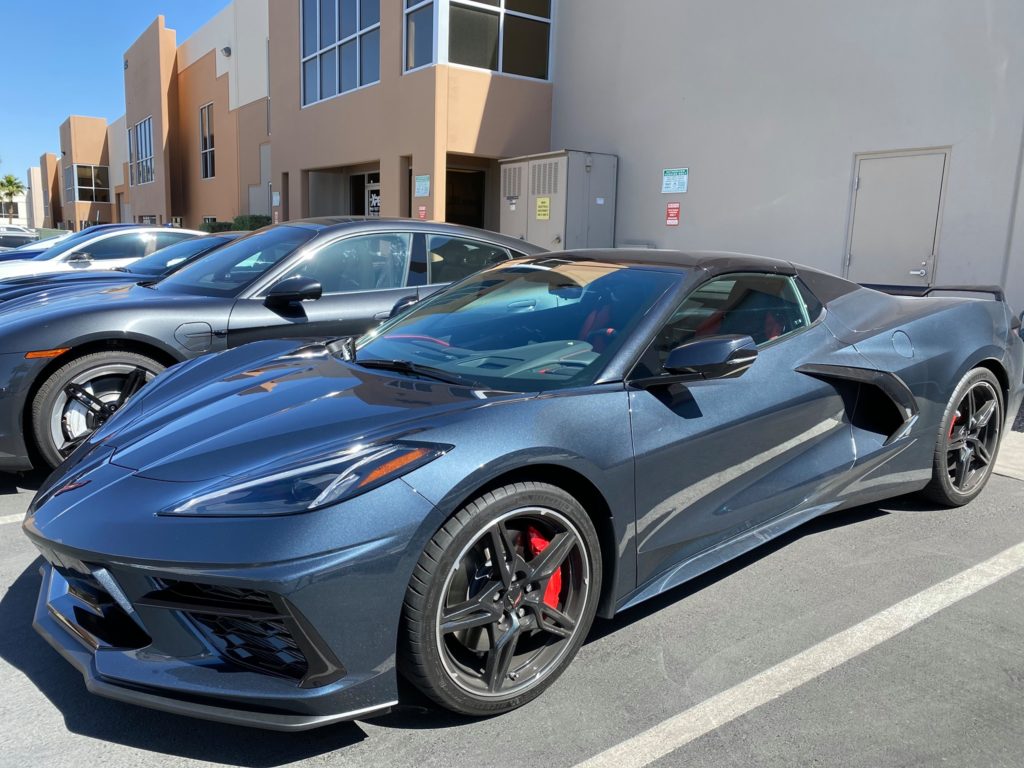 2021 Corvette C8
The owner of this Shadow Grey 2021 Corvette C8 dropped it off at our Las Vegas install shop today. We treated the new C8 with our ULTIMATE PLUS ™ Paint Protection Film. The C8 owner opted for our full-front 'clear bra' service. A full-front ppf service wraps a vehicle's front bumper, hood, side mirrors, fenders, and headlamps. In the case of this Corvette C8, a full-front protects its entire nose. Its shadow grey paint is now protected against paint chips, scratch marks, and chemical and environmental elements.

For 2021, the Chevrolet Corvette C8 is still offering the 6.2-liter LT2 V8. No fancy superchargers or twin turbos are required to make power in the C8. The V8 produces 495-horsepower and 470 lb.-ft of torque straight out of the box. With this mill, the 2021 C8 can sprint from zero to 60 mph in under three seconds.

ULTIMATE PLUS ™ paint protection wrap is a transparent, durable film developed to protect surfaces against scratch marks, paint chips, and corrosion brought on by environmental contaminants. Pollutants like bird droppings and acids from bugs. ULTIMATE PLUS ppf is virtually unnoticeable and leaves a high-gloss shine on wrapped surfaces. The paint protection film 'self-healing' properties work with direct sunlight to vanish away light paint damage like swirl marks and faint scratches.

We offer paint protection wraps in a partial front which covers the front bumper and partially covers the hood and side fenders. Our most well-known ppf services is the full front known a 'clear bra', which covers the entire hood, fenders, front bumper, side mirrors, and headlamps. However, one can always request to wrap the whole vehicle in XPEL ULTIMATE PLUS ™ paint protection film. Our ppf can also be applied to interiors and trim pieces like carbon fiber wings and rear diffusers.
Contact Us today for an estimate or to schedule an install appointment on any of our services: paint protection film wraps, ceramic coating, and window tinting.